Don't let the weather fool you. At a muggy 90 degrees West Michigan may feel like a sauna this week, but fall is just around the corner and there's so much to do! Check out these 5 tips on how to get your home ready for the season:
1. Clean house
First things first — declutter. We don't like to hear it, but we know it's true. With the change of the seasons, it's time to reevaluate, reorganize and CLEAN.

Take it day by day and divide the house into sections — one room at a time. Purge your closets and deep clean your kitchen and bathrooms, putting the summer items you want to keep in storage and donating or selling the stuff you don't need. The air starts to cool in mid-September, giving you the perfect climate for a yard sale.
Trust us, we hate cleaning just as much as you do. But you'll thank yourself later when you're breathing in that crisp fall air and your home feels just like new.
2. Warm it up
And we don't mean the temperature (but we won't blame you for adjusting the thermostat a bit). Warm up your colors. As fall approaches, the air and the leaves on the trees all get a little crisper. Coming back to a cozy home at the end of a long day is one of the greatest comforts. So break out the blanket ladder and all your apple cinnamon candles. Don't shy away from dark accent colors. Try browns, deep reds, and burnt orange to spice up your living space. Consider this your excuse to buy that rug you've had your eye on 😉
3. Save the seals
Now that you've warmed the colors in your home, make sure the temperature matches. The numbers on the thermostat won't matter if your windows and doors aren't sealed properly.

Whether you choose to hire someone or do it yourself with foam, weatherstripping, or other methods, make sure you're not losing any warmth through gaps in your doors and windows. We love West Michigan, but there's no denying our winters are freezing, but our homes don't have to be.
4. Love your lawn
Thankfully as the weather cools, outdoor work becomes more bearable. And that's a good thing because your lawn needs a lot of TLC as fall approaches. This involves weeding, and eventually lowering the blade of your mower to its lowest setting so that your grass gets optimum sunlight.
You will also want to make sure your landscaping and garden plants are secure from wind and early snowfall. You can wrap, tie, prune, or transplant depending on types of trees and plants you are protecting. Securing your plants will ensure your lawn looks and feels ready for fall.
5. Pumpkins and other plants
Now that you've taken care of your outdoor plants, move inside. Fill your home with indoor fall plants. They make for perfect accents– the icing on the cake. We're big fans of pumpkins and succulents But if you want to flex your creativity, try introducing Amaryllis or Oxalis Triangularis (the name is intimidating, but it's gorgeous) into your home.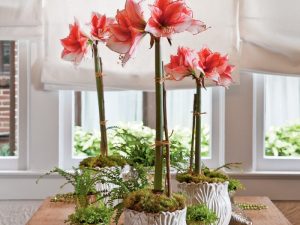 ---
As summer draws to a close in West Michigan, we look forward to fall in anticipation. Follow these tips and your home will be fall-ready in no time. You can sit back, relax, and curl up with that cozy blanket and your pumpkin spice latte.